Hydrocodone Withdrawal Treatment Center
Hydrocodone is a semi-synthetic opioid painkiller medication intended to interact with the body's opioid receptors to modify the way the brain and central nervous system processes pain. Healthcare providers may prescribe hydrocodone to treat moderate-to-severe pain or decrease cough.
According to the 2018 National Survey on Drug Use and Health by the Substance Abuse and Mental Health Services Administration, in 2018, about 2 percent of the American population, or 5.5 million people older than age 12, misused hydrocodone products. According to the National Institute on Drug Abuse, the United States accounts for almost 100 percent of the world's hydrocodone prescriptions. In 2018, the most common types of prescription Hydrocodone pain relievers that were abused included: Vicodin®, Lortab®, Norco®, Zohydro® ER, and generic hydrocodone. The United States is the sole consumer of Vicodin®, a medication that contains hydrocodone. Hydrocodone products can come as a tablet, capsule (including long-acting capsule), syrup, and clear liquid solution (including long-acting liquid). These hydrocodone products can be swallowed, chewed, injected, or snorted with high abuse potential.
Hydrocodone is often combined with acetaminophen – a pain and fever reducer, such as Tylenol, Ofirmev, and Mapap. Immediate-release hydrocodone/acetaminophen is the most prescribed opioid in the United States. A retrospective study found that most patients who obtained hydrocodone prescriptions during 2008-2013 received between 20-60 milligrams a day, but some receive prescribed doses of more than 60 milligrams a day. This study found that 15 percent of 900,000 patients who were prescribed immediate-release hydrocodone/acetaminophen, were prescribed doses that exceed the U.S. Food and Drug Administration's recommended limit of four grams a day. Also, about 104,839 patients who participated in the study continued long-term treatment of hydrocodone/acetaminophen.
Detox from Hydrocodone
Hydrocodone attaches to the brain's opioid receptors to stimulate an increased amount of endorphins. The more someone uses hydrocodone over time, the higher their tolerance will build as they will become desensitized, and the higher dose they will need to achieve a similar effect. This is because perpetual opioid use will deregulate the brain's chemistry and the central nervous system. The built-up tolerance will eventually lead to addiction. A significant number of people may not realize they are addicted to Hydrocodone until they stop taking it and begin encountering withdrawal symptoms.
Fast & Rapid Hydrocodone Detox
In the 1990s, Doctor Waismann developed the concept of "Rapid Detox." Due to the success of this method, other rehabilitation facilities tired and still trying to implement a similar model. However, many of these facilities who are trying to perform "Rapid Detox", lack the necessary comprehensive medical information, experience, and knowledge to effectively develop and safely implement this old treatment. As a result, their detoxification programs have not resulted in the targeted outcomes, and instead, some have caused health complications. These programs are also not effective as they do not integrate the significant differentiation that Doctor Waismann uses to contrast between chemical reactions that occur due to opioid addiction and opioid dependency.
Fortunately, through three decades of experience and research, Doctor Andre Waismann recognized the root of Hydrocodone dependence or any opioid dependence. His old rapid anesthesia detoxification treatment method in the 1990s helped him to identify the biological roots of opioid dependency, and the ability to achieve an endorphin-receptor equilibrium to defeat the dependency. He then developed a medical procedure using advanced medicine, ANR, to help his patients overcome opioid addiction, dependency, and withdrawal.
Hydrocodone Withdrawal Symptoms
As one becomes dependent to hydrocodone, withdrawal can occur if the body does not receive hydrocodone. This can especially occur if someone abruptly stops using hydrocodone without clinical supervision.
Symptoms of hydrocodone withdrawal may include:
Anxiety, agitation, and restlessness.
Depression and inability to feel pleasure.
Paranoia and hallucinations.
Difficulty focusing, concentrating, problem-solving, and making decisions.
Insomnia and inability to sleep.
Sweating.
Yawning.
Shivering and trembling.
Watery eyes.
Dilated pupils.
Runny nose.
Muscle aches and joint pain.
Diarrhea and stomach cramps.
Nausea and vomiting.
Drug cravings.
Decreased energy level.
Hot and cold flashes.
Hydrocodone Withdrawal Timeline
Hydrocodone withdrawals can last from a week, even up to a month. The initial manifestations will appear about 6 to 12 hours after taking the last dose and tend to peak at 48 to 72 hours after taking Hydrocodone. The timeline for each individual will vary as each person, and their body is exclusive and build-up tolerance differently. With different levels of Hydrocodone resilience, the body will be triggered and respond uniquely. A good rule of thumb is that the longer you take Hydrocodone, the more tolerant you become; the longer and more intense the withdrawals might be.
Mild withdrawal symptoms will begin 6-12 hours after the last dosage due to the time it takes the body to eliminate the drug from the body. Signs and symptoms may include anxiety, agitation, racing heartbeat, hypertension, fever, muscle aches, nausea, excessive yawning, and vomiting.
The symptoms will then intensify and peak around 48-72 when the cravings are the most intense. Such signs and symptoms may include strong cravings and urge to relapse, tremors, paranoia, goosebumps, hallucinations, insomnia, difficulty sleeping, restlessness, anxiousness, and abdominal cramps.
The intense physical symptoms may subside after approximately four days. However, the following symptoms may persist for up to 10 days: a strong urge to relapse, depression, diarrhea, decreased energy, inability to concentrate, lack of pleasure, and motivation.
For those who continue to experience symptoms beyond two weeks, they may experience mild symptoms for the remaining duration of their Hydrocodone withdrawal timeline.
During this time, you may feel a craving for hydrocodone. These withdrawal symptoms can be extremely uncomfortable and increase your risk of relapse to prevent the continuation of the withdrawal symptoms. As such, it is essential to seek support to help you successfully overcome the hydrocodone withdrawal signs and symptoms. Even if you do overcome withdrawal, you are at an increased likelihood of relapse as you may still feel cravings. Cravings are psychological manifestations of a medical condition, such as addiction.
Most rehabilitation facilities and healthcare providers may suggest slowly tapering off hydrocodone, but there may still be potential for withdrawal symptoms. Fortunately, rather than experiencing withdrawal symptoms, Doctor Waismann has identified a process to address the biological roots of hydrocodone dependency in order to immediately reverse the body's addiction to hydrocodone using a modern medicine technique.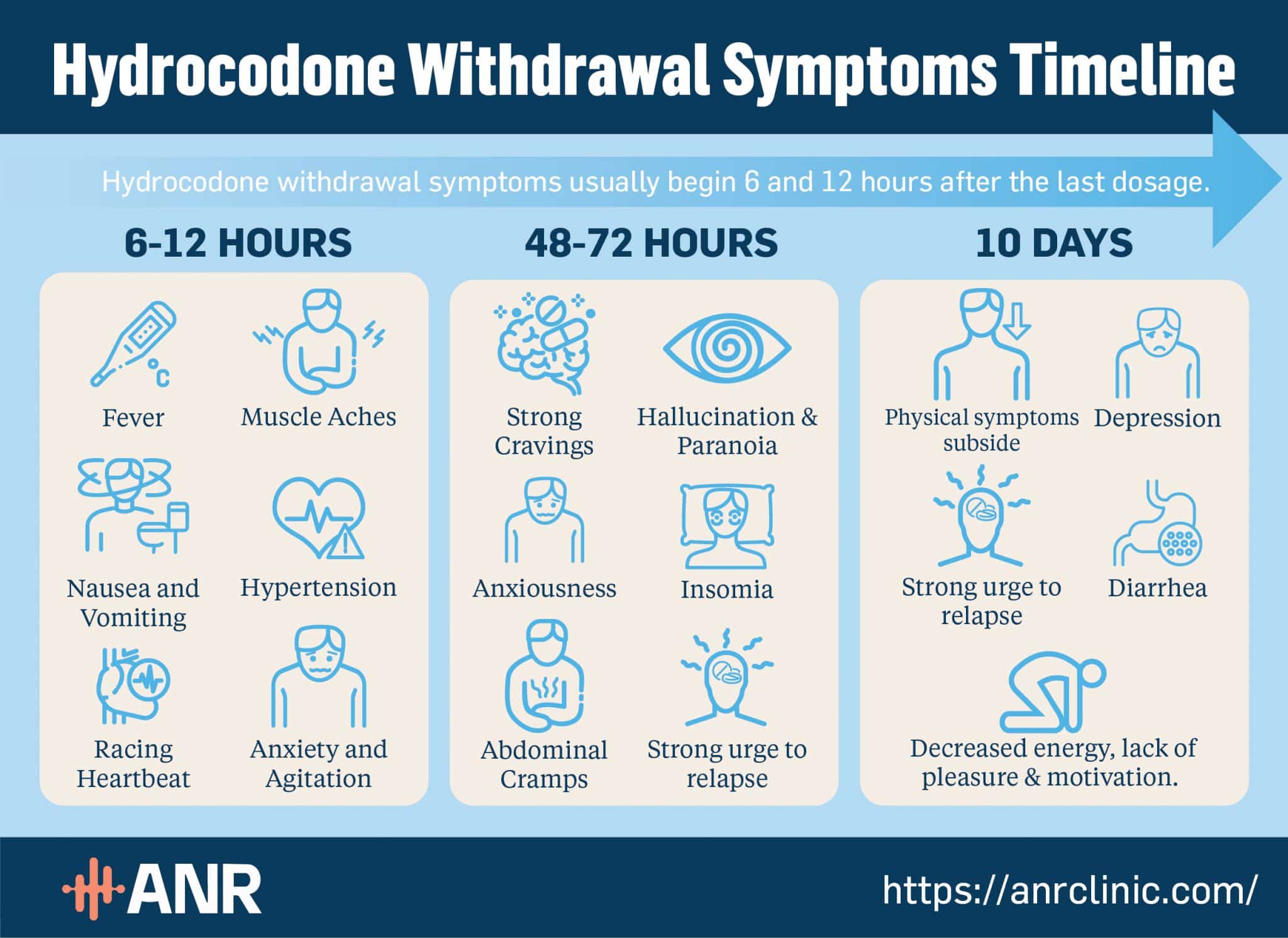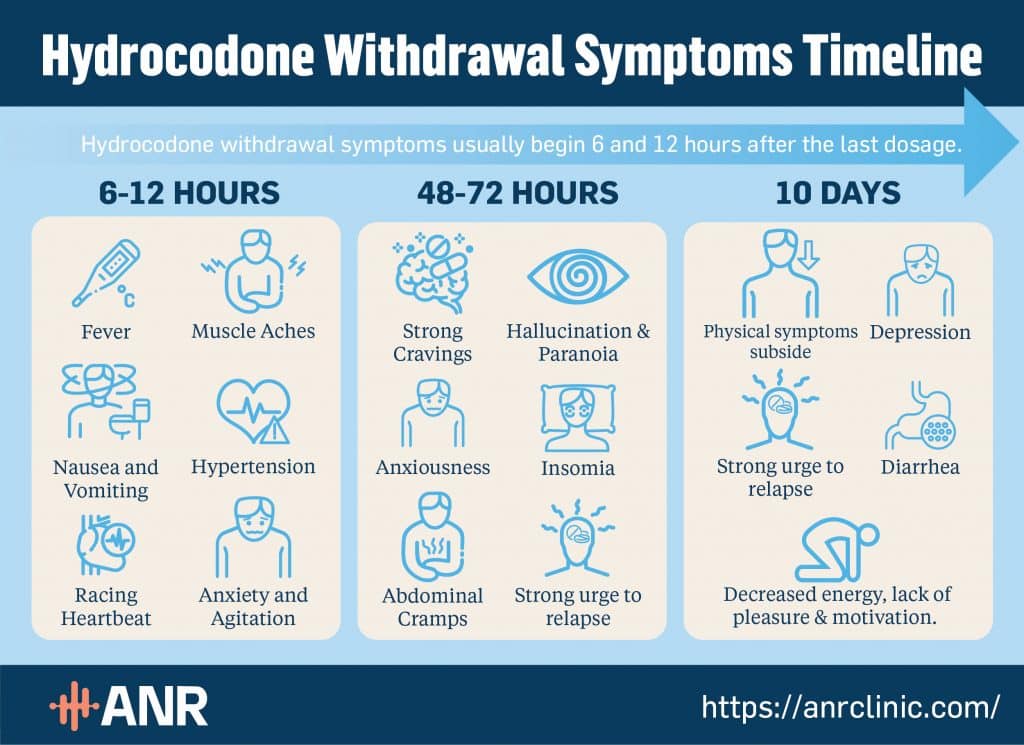 Hydrocodone Addiction Treatment
Hydrocodone addiction and dependency is a physical health condition and should be treated with modern medicine. As mentioned earlier, our bodies strive for a physiological endorphin-receptor balance, and our internal opioid system is based on the relationship between endorphins and opioid receptors. The central nervous system will not be able to achieve equilibrium when more opioid receptors are created with taking external opiates – This becomes a never-ending cycle: the more receptors are created, the more opioids a person needs to satisfy this neuro-biochemical demand.
When we continuously expose our bodies to hydrocodone, then the human body will no longer feel the need to continue to produce functional endorphins naturally and will become totally dependent on external opioids to fulfill basic necessities essential for our health and well-being. This is problematic as natural endorphins play various roles, such as an anti-depressant, pain reliever, stress modulator, and mood regulator.
As a result, hydrocodone addiction results in uncomfortable side effects and blocks pleasure sensors, rather than causing euphoria. Toxic hydrocodone abuse involves using the opioid without a prescription or using a higher dosage than is recommended. As a result, the following signs and symptoms may occur as a result of overuse of hydrocodone:
Irregularly small pupils.
Nausea and vomiting.
Stomach and intestinal spasms.
Constipation.
Drowsiness.
Confusion.
Seizures.
Difficulty breathing.
Loss of consciousness or coma.
Slow or shallow breathing.
According to a Texas research study by the Bexar County Medical Examiner's Office which analyzed lethal concentrations of hydrocodone:
The average lethal hydrocodone concentration, which causes mortality, was 0.47 mg/L (median, 0.38 mg/L).
The average hydrocodone concentration in cases where hydrocodone was incidental to death was 0.15 mg/L (median, 0.08 mg/L).
The average hydrocodone concentration in instances of drivers driving under the influence of hydrocodone was 0.09 mg/L (median, 0.08 mg/L).
However, it is essential to note that each person's body is unique and can respond to hydrocodone differently, resulting in users indulging in hydrocodone concentration levels as high as 0.3 mg/L peripherally and 1.4 mg/L centrally, and not passing away.
Adverse outcomes as a result of hydrocodone overdose and toxicity can especially increase for:
Elderly adults.
People with significant liver failure.
People who have renal or pulmonary disease.
People with an electrolyte imbalance.
People on other prescription medications.
People who may combine another toxic level of alcohol or a substance with a dangerous dosage of hydrocodone.
People who are addicted have a health condition that results in drug cravings. They may have no choice but to seek alternative means if they are denied a prescription for their requested dosage from a healthcare professional. If you or a loved one may be addicted, experience withdrawal symptoms or cravings when going for longer than 6 hours without hydrocodone, or feel as though you need to increase your dosage to feel the effects, then it is critical to visit a hydrocodone addiction treatment clinic as soon as possible.
You should not allow barriers, stigma, or other concerns to prevent you or your loved ones from seeking treatment. The longer someone is exposed to hydrocodone, the more intense withdrawal symptoms they will experience, the longer their withdrawal timeline will last for, and the more serious long-term consequences that may be possible.
Hydrocodone Rehab Near Me/You
You can overcome hydrocodone addiction only if you treat the root cause of the problem. Hydrocodone dependency stems from an endorphin- opioid receptor disproportion. This is a medical condition and needs to be addressed as such. Detox and rehab, which fixate only on abstinence, are powerless in achieving continued success. These ordinary clinics may monitor patients to ensure that they take the prescribed amount of hydrocodone to treat the pain while trying to balance the risk of addiction and overdose.
As the person's system becomes accustomed to the hydrocodone doses its receiving, the prescriber will want to make sure that the patient's system can tolerate another opioid. Even with these safeguards in place, the individual may still feel withdrawal symptoms. At that point, the doctor would continually increase the dose to find an optimal one. Throughout the next couple of days, the detox team will keep an eye on the symptoms trying to confirm that the person will not relapse. From there on, they will monitor the progressive withdrawal.
However, these hydrocodone rehabilitation programs are not an effective approach as they do not treat the root cause of the brain's endorphin-opioid receptor chemical imbalances. As a result, 91 percent of opioid addicts in recovery will relapse, 59 percent may do so within the first week of sobriety, and 80 percent may do so one month after discharge from the opioid detox programs. unlike the treatment provided at the ANR Clinic, most of these rehabilitation facilities may require ongoing visits for at least a few weeks.
ANR Is not "Rapid Detox"
Unlike these ineffective treatment models, Doctor Waismann's ANR method focuses on creating the optimal endorphin-receptor balance. Rather than waiting weeks or months to fully recover, patients are guaranteed a total recovery with a one-time-stay that approximately lasts 30 hours but can vary from patient to patient as each person's body recovers differently. Doctor Waismann has crafted groundbreaking modern medicine techniques to treat your endorphin system imbalance. Accelerated Neuro-Regulation helps you regulate and achieve your optimal chemical balance to establish an equilibrium between your natural endorphins and opioid receptors so that you can leave the hospital free from dependency. Therefore, the ANR model is the only method that truly allows for a fast and rapid total recovery and a dependent-free life with sustained success results.
In order to enable more healthcare professionals to accelerate their patients' recovery, the ANR team consults other healthcare professionals around the world. Doctor Waismann shares his experiences and innovative, evidence-based modern medicine practices with other healthcare professionals who aspire to move on from outdated "Rapid Detox" and other traditional treatment methods so that all patients may experience the benefits of an evidence-based, fast and rapid modern medicine opioid treatment modality.
Hydrocodone Rehab Facility
Dr. Waismann's radical breakthrough in the ANR approach has revolutionized the field of opioid addiction with a goal of modulation, which achieves the peak chemical balance present before introducing hydrocodone. As a result, it creates a new caliber of addiction treatment, as it is the only technique that utilizes modern medicine to overcome not only withdrawal but dependency itself permanently.
As trusted by 24,000 patients around the world during 30 years of medical practice, Doctor Waismann is a leader in combatting the global opioid epidemic. The ANR procedure lasts for a duration of four or five hours and requires hospitalization of approximately 30 hours.
When the patient arrives at the ultramodern ANR Clinics in Naples, Florida, Thun, Switzerland, or Tbilisi, Georgia, they receive a comprehensive medical examination. This evaluation allows the doctors to learn as much as possible about the individual so that they can develop a unique patient-centered care plan. This assessment comprises of:
Vital signs monitoring
Mass calculation
Labs will provide information on the body's liver & kidney functions, complete blood count test, and electrolyte balance.
The ANR clinical team will then administer pre-medications to the patient and help the patient transition into a relaxed state. This safe, light, and non-traumatic anesthesia is important so that the team can clean and bind your opioid receptors with medication while precipitating and controlling your opioid withdrawal syndrome.
The patient will be monitored as the healthcare team implements a tailored procedure of blocking and cleansing the receptors with naltrexone. While the procedure is typically between three to five hours, this treatment process is completely individualized, and a different procedure length is needed to achieve the optimal neuro-regulation for each specific case. The maximal stimulation beneficial for the body will be provided to start naturally producing endorphins again.
The individual will only experience withdrawal symptoms when sedated and will, therefore, be cleansed without suffering pain and other hydrocodone withdrawal symptoms. This process will continue until the endorphin system is balanced.
The patient will then be awakened to start the recovery process from the treatment, as is typical with any other medical procedure. The patients will be continuously evaluated overnight and supported with full recovery so that they may leave the hospital free from opioid dependence. Over 90 percent of patients will be released the day after the procedure and may need an additional two to three days for full healthy and sustainable recovery.
Whether you are seeking an opioid addiction treatment that has been proven to be effective with thousands of patients, are struggling with addiction, or overcoming withdrawal symptoms, ANR Clinic has a team of compassionate and experienced healthcare professionals. The compassionate expert ANR clinicians will guide you with your recovery journey. Contact ANR Clinic today to learn more about our evidence-based revolutionary care methods that will help you fully recover within a short period of time to minimize your withdrawal symptoms as you recover.
Resources
DeVeaugh-Geiss A., Kadakia A., Chilcoat H., Alexander L., Coplan P. (2015). A retrospective cohort study of long-term immediate-release hydrocodone/acetaminophen use and Acetaminophen dosing above the Food and Drug Administration recommended maximum daily limit among commercially insured individuals in the United States (2008-2013). Link
DrugAbuse.com (n.d.) Opiate Relapse. Link
MedlinePlus (2019, October 15). Hydrocodone Combination Products. Link
Molina D.K., Hargrove V.M. (2011). What is the lethal concentration of Hydrocodone?: a comparison of postmortem hydrocodone concentrations in lethal and incidental intoxications. Link
National Institute on Drug Abuse (2014, May 14). America's Addiction to Opioids: Heroin and Prescription Drug Abuse. Link
Substance Abuse and Mental Health Services Administration (2019, August). Key Substance Use and Mental Health Indicators in the United States: Results from the 2018 National Survey on Drug Use and Health. Link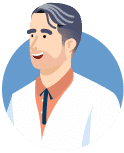 Schedule a FREE consultation with one of our physicians today