What is codeine withdrawal?
Codeine is an opioid drug commonly used for mild to moderate pain relief. While it is less addictive than substances such as heroin and fentanyl, its recent glamorization in popular culture has led many young people to use it recreationally.
When a user begins taking codeine, their body may start to develop a tolerance to the drug, whereby they feel that they must continue to increase their dosage to experience its full effects. As this tolerance begins to take place, the user is likely to develop physical dependence Especially when they try to stop taking codeine after long-term use. When the patient attempts to discontinue use, they will likely experience a host of uncomfortable and painful symptoms known as withdrawal.
Withdrawal from opiates is often the key driver of drug abuse/addiction. Many users choose to continue use to avoid the negative effects that they will face during drug detox.
Codeine withdrawal facts
Codeine is the most common opiate with millions of users in the United States.
Slang terms for codeine include Cody, Captain Cody, Little C, and Schoolboy.
Homemade codeine drinks have street names such as lean, purple drank, sizzurp, or Texas tea
Codeine withdrawal symptoms
While the severity and extent of codeine withdrawal symptoms one experiences largely come down to the individual, there are some common symptoms that most people can expect to face. Common symptoms include:
Flu-like symptoms such as fever, sweating, runny nose, dehydration, body aches, and headache.
Nausea, vomiting, and diarrhea.
Stomach pain and stomach cramps.
Muscle aches, muscle spasms, and muscle cramps.
Changes in blood pressure and.
Loss of appetite
Respiratory depression.
Onset or exacerbation of mental illnesses such as depression, anxiety, eating disorder, or bipolar disorder.
Mood swings, indifference, and inability to concentrate.
Insomnia or changes in sleeping patterns.
Severe drug cravings.
If you, a loved one, or someone you know is struggling with the effects of codeine addiction, contact ANR Clinic
Codeine detox – withdrawal & recovery timeline
How a person responds to codeine and the severity of withdrawal that they experience can be influenced by many factors. Largely, it is dependent on the individual themselves. Factors include: the physical make-up of the patient (such as height, body weight, and fitness level), whether they have any pre-existing conditions such as mental health issues or heart disease, and the extent of their codeine dependence/addiction.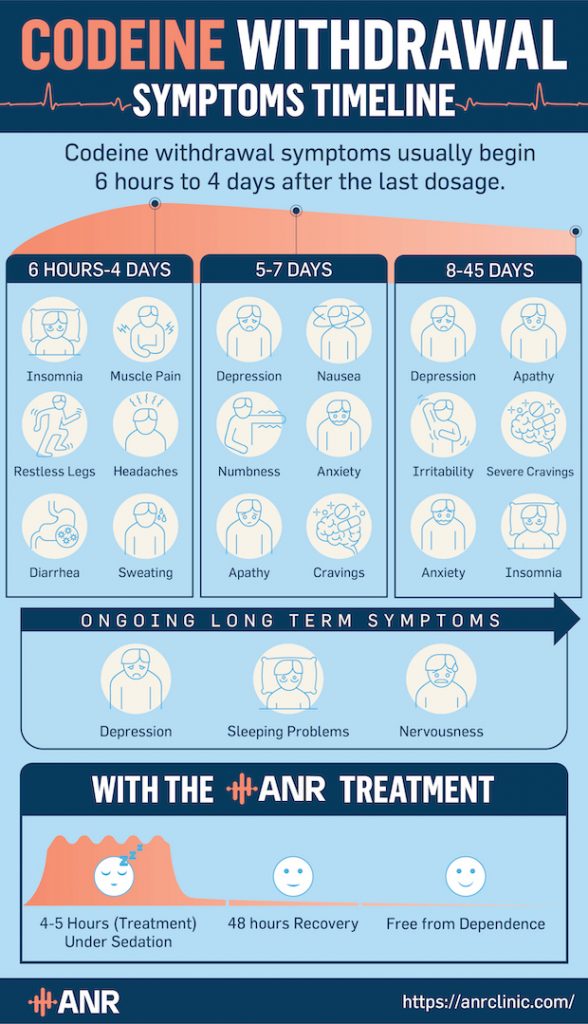 Days 0-4
Unlike most other opiate withdrawal symptoms, which take 24 hours to present themselves, codeine can take as few as 6 hours. During this period, the patient can expect to experience withdrawal symptoms such as muscle pain, restless legs, headaches, sweating, diarrhea, and insomnia.
Days 5-7
This is where the most severe physical symptoms (known as acute withdrawal symptoms) take hold. During this time, the patient can experience depression, nausea, numbness, anxiety, apathy, and drug cravings.
Days 8+
While, at this point, most physical symptoms of codeine withdrawal will begin to subside, the patient can be left with a myriad of psychological symptoms that are often harder to deal with. They can be left feeling guilty of the actions they undertook while on codeine, or during withdrawal. Symptoms include apathy, depression, anxiety, irritability, and insomnia. The combination of these effects is often what causes people to relapse, so they must be given adequate support during this time.
Post-acute withdrawal syndrome
Although the period someone will experience withdrawal will be a little over a week in most cases, some outliers can experience post-acute withdrawal syndrome (PAWS). PAWS can last weeks, months, or even years, and causes a variety of symptoms. Symptoms include attention deficit, sleeping problems, indifference, lethargy, mood swings, and mental illness such as depression or bipolar disorder. Post-acute withdrawal symptoms can be physical, however, this is far less common. PAWS can eventually be overcome as patients learn to deal with the psychological symptoms, but it is best to attempt this with the help of professionals who can provide medical advice under clinical care and supervision.
Codeine withdrawal treatment and medical detox
Unlike other detox treatments, ANR is currently the only medical treatment that can restore the endorphin-receptor balance in patients. This is because ANR treatment targets the roots of addiction by focusing on the physiological mechanism behind dependency, whereas other addiction recovery treatments simply try to counteract the effects of withdrawal itself. ANR patients can experience a full recovery in just a few days, without further withdrawal symptoms or fear of relapse.
ANR Clinic has health care facilities to provide the medication-assisted detox process in:
DeSoto Memorial Hospital, Arcadia, Florida
ANR Europe Thun, Switzerland
New Vision University Hospital, Tbilisi, Georgia