Introduction
Naltrexone and Naloxone are both drugs called opioid antagonists, which means they bind to opioid receptors in the brain to block the effects of opioids. While they are both very similar drugs, they are used for different purposes in patients addicted to opioids.
Naltrexone
Naltrexone is a drug normally used for the treatment of opioid use disorder (OUD). It is typically administered as an injection or in tablet form, for the purpose of blocking the effects of opioids.
This drug blocks the "high" from opioids such as heroin, therefore preventing the patient from relapsing. It should be noted that Naltrexone should only be taken by patients after they have detoxed and are no longer dependent on the opioid medications; taking an opioid antagonist while addicted to opioids will lead to a sudden, extreme withdrawal syndrome.
Unlike replacement drugs, such as Suboxone or Subutex, Naltrexone is not an opioid, and it's not addictive, therefore it does not cause withdrawal symptoms when stopped suddenly.
As long as the patient continues to take the Naltrexone, the effects of opioids will be blocked and cravings for opioids will be reduced. Naltrexone is approved by the Food and Drug Administration (FDA) to help treat opioid use disorder (OUD).
Naloxone
Naloxone is an opioid antagonist used strictly to treat an opioid overdose and reverses the effects rapidly. Naloxone comes in injectable form, as well as a nasal spray. Also known as Narcan, this drug is the antidote for an opioid overdose.
Naloxone is also found in other medications, such as Suboxone, to prevent abuse of the drug. The small dose of Naloxone in Suboxone is designed to decrease the risk of abuse, misuse and dependency. Even though it is similar to Naltrexone in its chemical structure, Naloxone is a short-term opioid blocker.
It is not designed for long term drug addiction treatment, but rather as an emergency medication for people who overdose on opioid drugs.
Summary
In conclusion, Naltrexone and Naloxone are similar drugs, that have very different purposes. Naltrexone is commonly used by patients in recovery from opioid addiction, to prevent relapse and reduce cravings.
Naltrexone is a longer-acting opioid antagonist and assists with relapse prevention in opioid use disorder. Naloxone is a drug used to reverse the effects of an overdose on opioid drugs, as a lifesaving treatment; Naloxone is also found in some medications as a safeguard to prevent abuse.
Naloxone acts rapidly in the body and can reverse an opiate overdose almost immediately. Remember that before starting any new medications or supplements, one should always consult a physician for a thorough evaluation.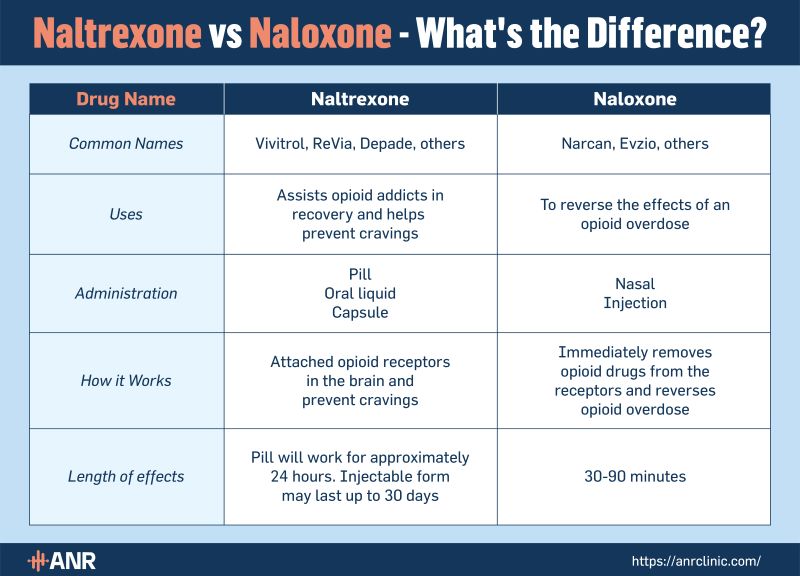 Drug Name
Naltrexone
Naloxone
Common Names
Vivitrol, ReVia, Depade, others
Narcan, Evzio, others
Uses
To help addicts in recovery to avoid using drugs and prevent cravings.
To reverse the effects of an opioid overdose.
Administration
Pill
Oral liquid Capsule
Nasal spray
Injection
How it Works
Attaches to opioid receptors in the brain and prevents cravings.
Immediately removes opioid drugs from the receptors and reverses opioid overdose.
Length of Effects
Injectable form may last up to 30 days
30 – 90 Minutes
Dr. Waismann identified the biological roots of opioid dependency, Since then he has successfully treated more than 24,000 patients worldwide that are struggling with opioid addiction.
Throughout his career, he has lectured and educated health professionals in dozens of countries around the world to this day.