Opiates are prescription drugs used for the treatment of short-term and chronic pain. In the '80s, they became the drug of choice for short-term pain relief. They were not considered addictive and were marketed as safe to use. We now know that opiates are incredibly addictive.
The use of opioids has since increased significantly around the world and about 130 Americans die from opiate overdose every day. Millions more are currently addicted to opiates or going through opioid withdrawal. Opiate withdrawal without ANR is an extremely severe and uncomfortable process.
The severity of an individual's opiate withdrawal symptoms is measured on the Clinical Opiate Withdrawal Scale (COWS).
What is the clinical opiate withdrawal scale?
The Clinical Opiate Withdrawal Scale, or COWS, is a numbered scale used to determine the severity of opiate withdrawal. 11 different signs or symptoms of opiate withdrawal are assessed during the COWS test.
Since the first opiate withdrawal scale was developed in the mid-1930s, many similar tests have been used in clinical and research settings. 18 opioid withdrawal scales have been used in the last 80 years.
How does the clinical opiate withdrawal scale (COWS) work?
COWS must be administered by a licensed clinician. The test itself is a form that rates 11 common opiate withdrawal symptoms. Each symptom is worth a certain amount of points. At the end of the test, the points are added and the patient's level of opiate dependence can be measured.
The scores range from 0 to 47:
Potentially no opiate withdrawal (0 – 5)
Mild opiate withdrawal (5 – 12)
Moderate opiate withdrawal (13 – 24)
Moderately severe opiate withdrawal (25 – 36)
Severe opiate withdrawal (37)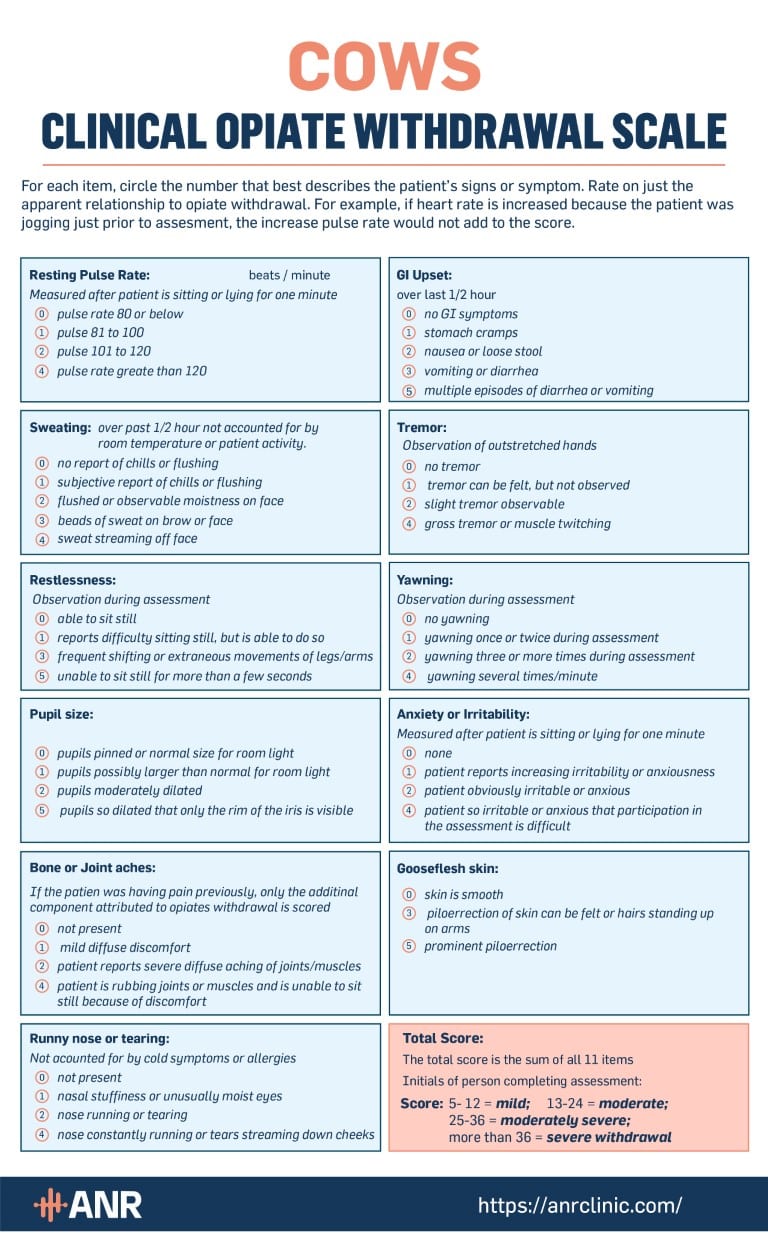 The clinical opiate withdrawal scale can be used in both inpatient and outpatient environments. For a patient to score higher than the lowest score in most categories, they must have some clearly observable signs or symptoms of opiate withdrawal. It has proven to be effective in rating the severity of opiate withdrawal and tracking these symptoms over time.
The final score given by the COWS test helps healthcare workers assess the severity of opiate withdrawal by giving a measure of the patient's physical dependence on opiates. However, some concerns have been expressed about the objective nature of some aspects of COWS. Listed symptoms of opiate withdrawal also have the potential to be confused with the symptoms of severe flu, for example:
Nausea and vomiting
Sweating
Aching joints
Agitation and tremors
Buprenorphine and the renewed interest in the clinical opiate withdrawal scale
Clinical assessment of opiate withdrawal intensity has received renewed interest of late. Buprenorphine has gained in popularity in the US, often sold under the brand name Subutex. As an opioid, it is used to treat high levels of pain. It can also be used to treat those with opiate dependence.
Buprenorphine is effective when taken sublingually. A partial opiate agonist at the mu receptor, buprenorphine can prompt opiate withdrawal in patients with a high level of dependence. To avoid withdrawal, the patient should wait at least 12 hours after short-acting opioids and 36 hours after methadone.
It is also useful in emergency departments to detox patients who are dependent on opiates. Therefore, it is important to educate nurses and clinicians on the use of the clinical opiate withdrawal scale — as outlined in this study.
The aim of this study was as follows:
"To evaluate the effectiveness of training nurses on the use of the Clinical Opiate Withdrawal Scale (COWS) screening instrument by assessing their confidence in assessing and satisfaction with communicating withdrawal information crucial for patient safety."
The results of the study showed "significant increases in satisfaction". Nurses were given the tools to assess opiate withdrawal and as a result, could "accurately assess withdrawal symptoms and infants with neonatal abstinence syndrome".
The study was hailed a success and it was suggested that the improvements were rolled out to other facilities. It ends with a note that the study was performed as the result of a grant, in direct response to the opioid crisis in the USA. 
ANR to cure the opioid crisis
An evolution to the now-defunct rapid drug detoxification method, Dr. Andre Waismann has ushered in a new era of opioid addiction treatment through Accelerated Neuro-Regulation.
ANR has given new-found hope to thousands and has improved on the older models of opioid addiction treatment:
Rapid detox
Opioid medication replacement therapy
Long-term inpatient rehab
Drug detoxification
Only ANR allows patients to avoid active withdrawal entirely, bringing the brain and body into a state of pre-addiction. Meet with us if you or your loved one need help to battle a dependency. There is no obligation to be treated and all of our communications are confidential. Please, get in touch for a free consultation.
Dr. Waismann identified the biological roots of opioid dependency, Since then he has successfully treated more than 24,000 patients worldwide that are struggling with opioid addiction.
Throughout his career, he has lectured and educated health professionals in dozens of countries around the world to this day.